High Temperature Boiler Water Pressure Sensor Transducer HPT200-HT Holykell
Product Description
 High Temperature Boiler Water Pressure Sensor Transducer HPT200-HT Holykell

Why you choose and trust Holykell?
You benifits from:
♦Factory Experience : More than 16 years of experience in Level sensor industry.
♦Large stock : within 24 hours delivery for standard specifications.
♦Supply Ability : At least 25000 pcs per Month.
♦Supply Area : All over the world, about 70 countries (Most of them are from North America, Europe, Australia,Asia and Africa
♦Certificate :  CE, ROSH, ATEX  Audited by TÜV Rheinland and ECM
♦OEM/ODM :  Accept.
Holykell is the leading seller in this line on Alibaba trade assurance!---You can search and prove that on alibaba.
Credit Guarantee  :
♦ Trade Assurance: 558 Transactions, total amount is above $ USD 200,000+
♦ Near 50% buyers found Water Level Sensor and contact us, Holykell in
ALIBABA
♦ View Holykell 6000+, Send inquiry 200+, Quote 400+ (half of 2017 years)
Why choose Holykell HPT200  pressure sensor?
> Overloasd protection: Max 2.5 times overload rangepresure instant impact
> High accuracy: Factory internal control 0.25% high accuracy
> Automatic temperature compensation: -40~80 degree C automatic drift correction
> Rapid reaction: 8ms pressure trsnsient response
> Wide voltage power supply: 9-36V power supply, wide voltage power supply optional
> Triple protection. reverse connection protection, over-current protection,imported sensor core
> High stability, effectively inhibite the interference of cutoff frequency
> Waterproof and dustproof, IP68, suitable for all kinds of applications
Profit of Pressure Sensor 
HPT200-HT High Temperature Pressure Transmitters/Trans-ducer use high quality imported sputter film pressure sensordiaphragm and sapphire Pressure Sensors is suited for mediatemperatures up to 200°C. The pressure, acting onto the flush diaphragm, is transferred over an oil-filled capillary onto the silicon measuring cell.
The capillary has the function of a coo-ling spiral, allowing media temperatures of up to 200°C. For highly aggressive media, HOLYKELL offers pressure ports in different materials.Hard-line cables are recommended for operating temperatures above +200 °C. The cable can be welded to the sensor for operation in pressurized environments. All of these features ensure reliable operation in high temperatureenvironments.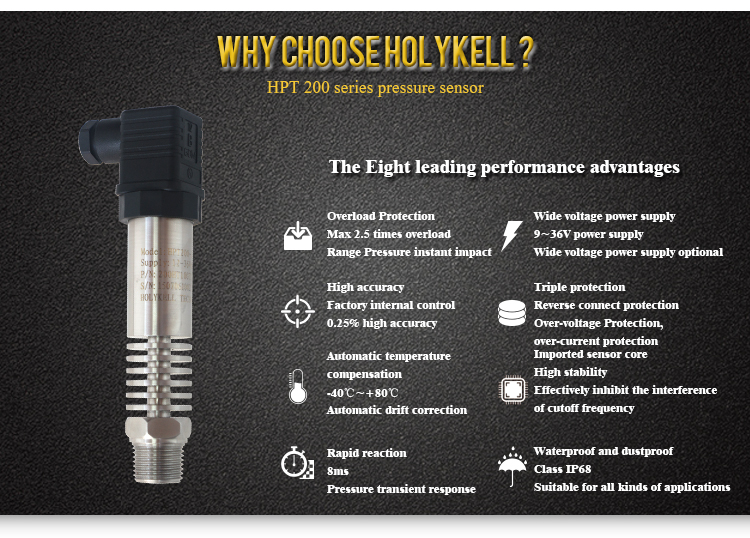 Specification of pressure sesor:
Model

HPT200-HT

 
 

Pressure Range

-1 Bar-1 Bar; 0-0.1Bar.....1000 Bar / 0-2 Psi…15000 Psi Optional

 

Pressure Type

Gage pressure; Absolute pressure; Sealed gauge pressure optional.

 

Output

4~20mA

 

0-10mA

0~5V 

0-10V

0.5-4.5V

 
 

Power Supply

12~30 Vdc

12~30Vdc

12-30VDC

10~32 Vdc

5VDC

 

Accuracy

≤ ±0.5%F.S; ≤ ±0.25%F.S

 

(Linearity Hysteresis

≤ ±0.1%F.S (Customized)

 

Repeatability)

Including non-lin., rep. and hys. Optional

 

Working/Storage Temp

-10℃~125℃ OR -60℃~200℃

 

Tempe Compensation

-10℃~60℃(standard); -20℃~60℃; -20℃~80℃(customized)

 

Safe Overload

200% F.S.(standard)

 

Burst Pressure

300% F.S. (standard)

 

Total Error Band

0...50 °C max. ±0.5 %FS;  -10...70 °C max. ±1.0 %FS

 

Medium compatible

Compatible with 316 Stainless Steel or 1Cr18Ni9Ti stainless steel

 

Zero Temp. Drift

0.03%FS/℃(≤100kPa),  0.02%FS/℃(>100kPa)

 

Body materials

316 stainless steel (standard); 1Cr18Ni9Ti stainless steel optional

 

Filling oil

Silicon oil (standard); Fluorocarbon oil (Oxygen Services)

 

Electronic connection

-DIN43650 Hirschman Connector, 4-poles and IP65.

 

-Plug: M12 (4-poles) Type IP67;

 

- Directly Outlet Cable Type IP68 optional.

 

Pressure

G1/4''male, G1/2''male, 1/8''NPT male, 1/4''NPT male, 1/2''NPT male and female optional. (by customized)

 

connect port

 

Dimension

Length: 120 mm (standard); Body diameter: 27 mm (standard).  *special size by requested*

 
Order information : Pressure range :0-10 bar , Output :4-20mA , Power supply:12~36VDC ,Process                                                 connection: 1/8"NPT male  ,Electronic Connector:Directly cable 
What is The Application of Pressure transducer ?
Critical industrial applications
Petroleum
Chemi-industry
Metallurgy
Power station
Hydrology, Agriculture
Harsh environments in the process industry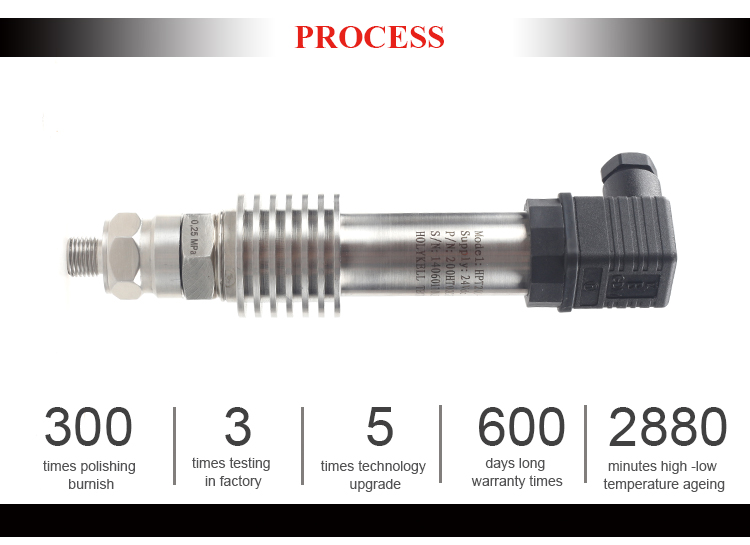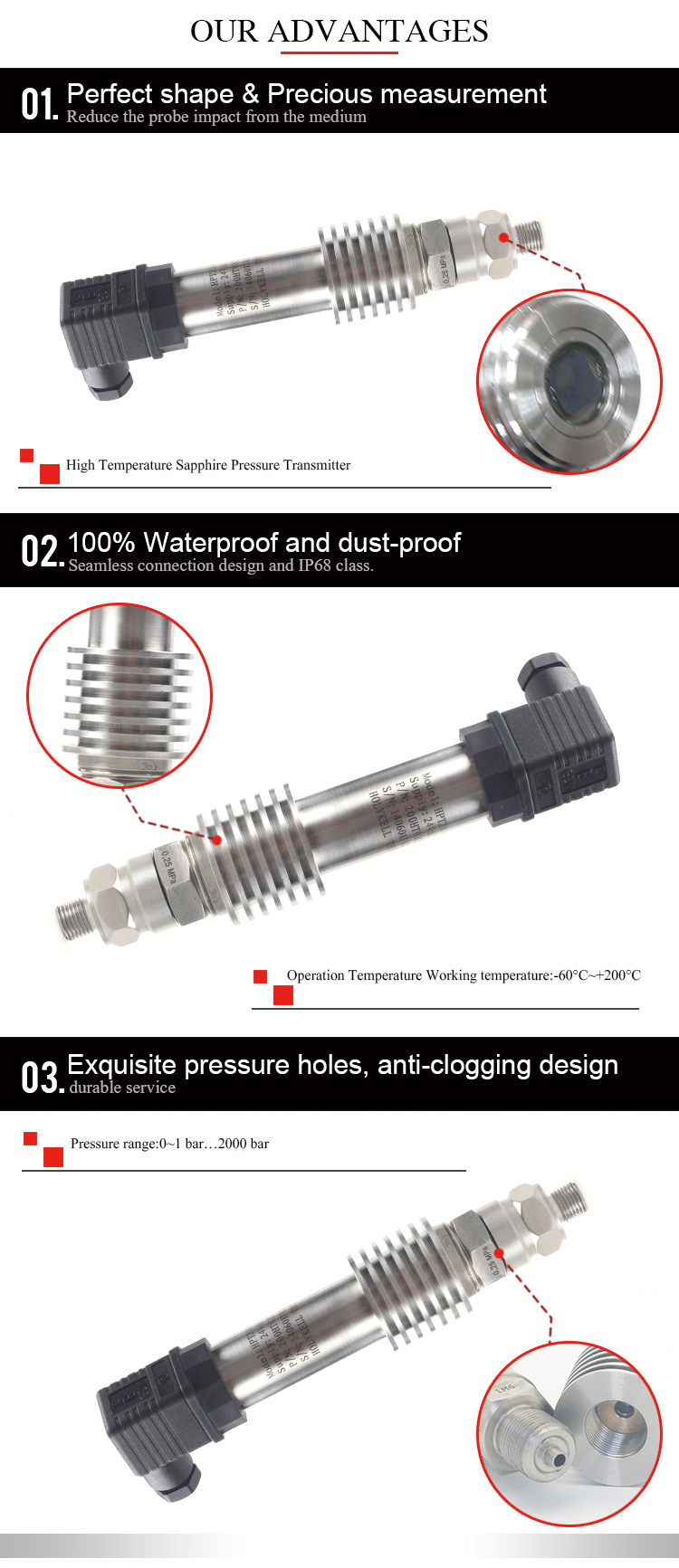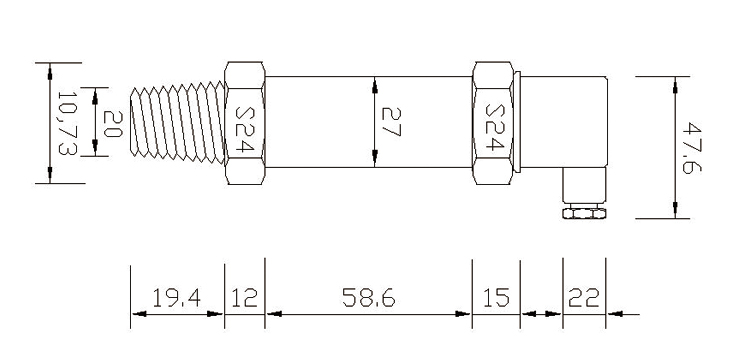 OEM / ODM services
To meet the user diversified requirement, Holykell have established a set of customer service and technical support system with OEM / ODM order as the center, and responded and Handle the customer's requirements in a timely manner to ensure accurate delivery time and product quality.
Order services
Fastest reply:Professional sales engineers 7/24 online services
Payment terms:T/T ,Western union, Paypal, Credit Card, L/C, Escrow others
Fast delivery: within 24 hours release the cargo (normal spec.),Customized 7-12 days after payment .
MAINTENANCE & AFTER-SALES SERVICES
Customer Feedback:  Sales engineers and technical engineers will be one-on-one service for you to exclude all obstacles when use our sensors.
Warranty period: 18 months
Product life-long maintenance: Holykell can provide you with the maintenance of the whole life of the sensors
Company Information
Holykell Technology Co. , Ltd is a high-tech company integrating R&D, production and distribution. The company has a purification plant of 5000m2, an annual output of 1 million production line of pressure sensor, transmitter and intelligent digital instrumentation.
Now the company has more than 120,000 customers worldwide, the products have been exported to Europe, America, Australia, Africa, southeast Asia, 109 countries.
Holykell can provide a cost effective solution for pressure monitoring for a variety of applications. Welcome to your inquiry.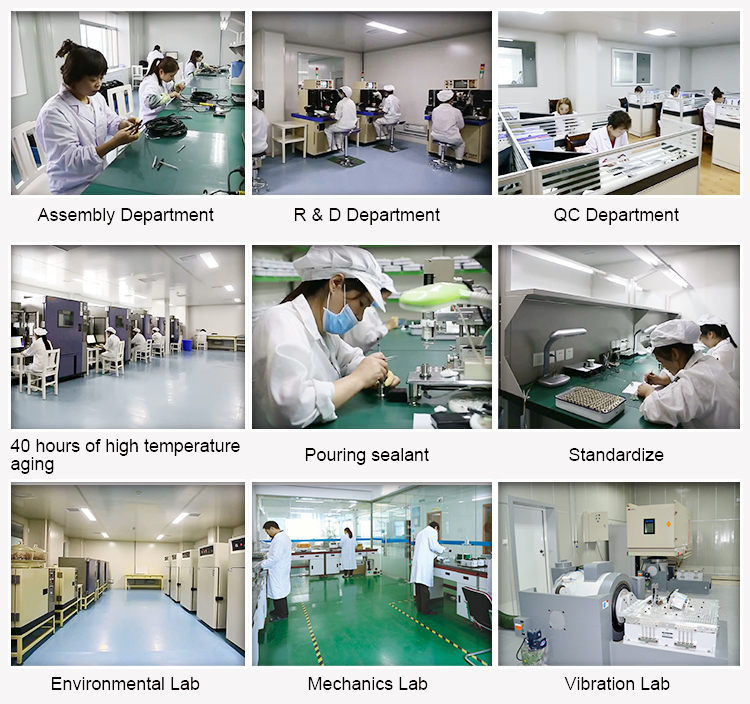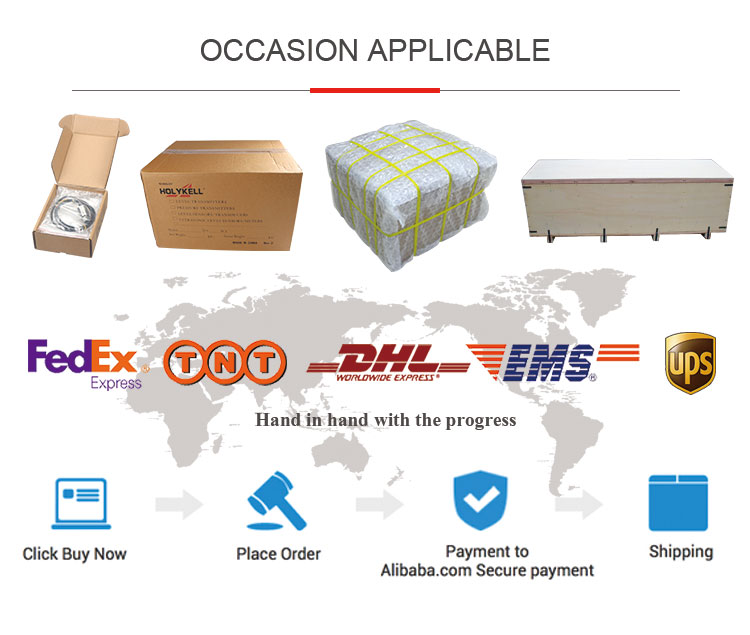 Certifications
HPT200(Pressure sensor) have obtained the European Union ATEX, TUV, Rosh certification, And Holykell has passed ISO9001:2015 international quality management system to certify that its mature and advanced technology can protect your project.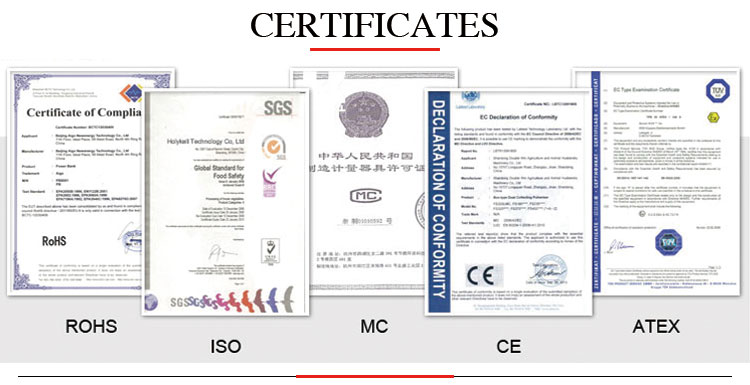 FAQ 
Q:Can you accept ODM & OEM service ?
A:We professional provide OEM &ODM service for Pressure Transducer.
Q:Could I get samples?
A:Yes,we have materials in stock to help you to get the samples as soon as we can.
Q:How about the quality of the magnets?
A:We have the certification of ISO,CE and ROSH,we could send the certification test of our company to you.
Q:How is the price?
A:As we believe the quality is the most important,we will provide the best quality pressure sensor we can with reasonable price.
Q:Could you provide me the shortest lead time?
A:We have materials in our stock,if you really need,you can tell us and we will try our best to satisfy you.
Q:Could I visit your factory?
A:Of course,if you need we will help you to visit our factory.
Q: How can I get the quotation?
A: Send your inquiry to us by the inquiry from on the right-side or the bottom of this page. Or contact us directly at (email:sales08(at)holykell.com), you will get the reply within 12hours, and the quotation will send to you according to your requirements.
Q. How can I get my sensors?/ What's the means of transport?
A. We main delivery goods by express: DHL, FedEx, UPS,TNT, etc or logistics by indicator
A. In order to recommend you the most suitable pressure sensor  and make an accurate
 quotation,please provide the following information and send it to our sales when you are going to makean inquiry, thanks ! 
1. What is your medium? Water ,oil or others.
2. Working Temperature? -30℃~80℃
3. Pressure range: 0-1bar...2000Bar optional
4. Output signal:4-20mA, 0-5V or others
5. Electronic connection? Antiseptic cable or by order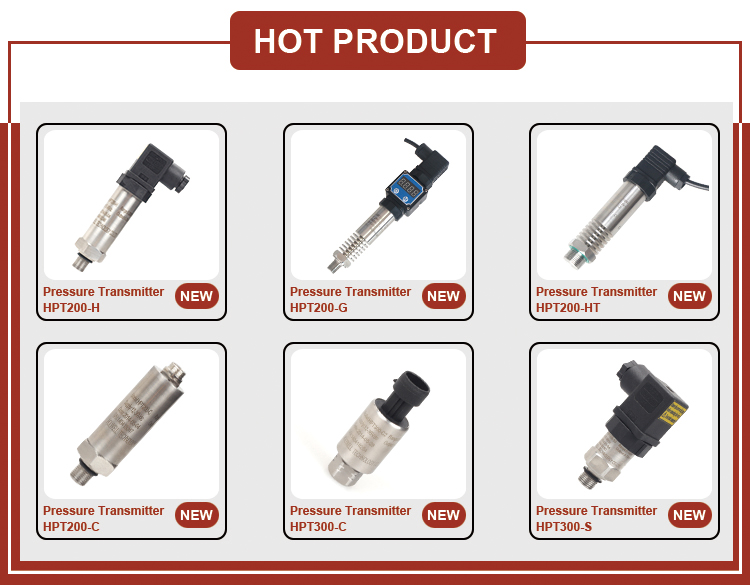 Product Categories : Pressure Measurement > Pressure Sensors And Switch