Piezoresistive Silicon  Universal Pressure Transmitter Fuel Pressure Sensor
Product Description
Product overview
PCM303D pressure transmitter adopts diffused silicon
Pressure Sensor
as pressure sensing element. Through internal ASIC, the millivolt signal of sensor is transmitted into standard current signal. PCM303D can be directly connected with computer interface card, control instruments, intelligent meters or PLC etc. conveniently. Long-distance transmission can use current output. PCM303D features with small size, light weight, all stainless steel sealing structure and ability to work in corrosive environments. The product is easy to install and has extremely high vibration and shock resistance. PCM303D is widely used in process control, aviation, aerospace, automobile, medical equipment, HVAC and other fields
Features
SS316L diaphragm structure
High accuracy, all stainless steel structure
Small size and light weight
Strong anti-interference, good long-term stability
Diversified formal structures, easy installation and use
Wide pressure range, can measure the absolute pressure, gauge pressure and sealed gauge pressure
Anti-vibration, shock resistance
Applications
Process control
Aviation and aerospace
Automotive, medical equipment
Piping system
Performance parameters
Pressure range
0~35kPa…60MPa
Pressure reference
Gauge pressure, Absolute pressure, Sealed gauge pressure
Supply & output
4~20mA, 0~5V, 1~5V, 0~10V, 1~10V (12~30VDC)
0.5~4.5V R/M(5VDC)
Accuracy
2%FS (-5~5kPa); 0.5%FS(Other ranges)
Hysteresis & repeatability
0.1%FS
Temp. Drift
1.5%FS(-20ºC~85ºC)
Response time
≤1ms(Up to 90%FS)
Overpressure
150%FS(≤60MPa), 120%FS(60~100 MPa)
Service life
≥10×106 pressure cycles
Ambient temp. 
-20ºC~85ºC
Medium temp. 
-30ºC~105ºC
Storage temp. 
-40ºC~125ºC
EMC-interference
IEC 61000-6-3
EMC-immunity
IEC 61000-6-2
Insulation resistance
≥250MΩ/500VDC(100MΩ/250VDC)
Vibration resistance
Sine curve: 20g, 25Hz~2kHz; IEC 60068-2-6
Random: 7.5grms, 5Hz~1kHz; IEC 60068-2-64
Shock resistance
Shock: 200g/1ms; IEC 60068-2-27
Free fall: 1m; IEC 60068-2-32
Protection
IP65
Medium compatibility
All the medium compatible with 316L
Net weight
150~180g
Ex-proof
Exia II CT6 (For 4~20mA only)
Size of hexagon
HEX27
Electrical connection & wiring method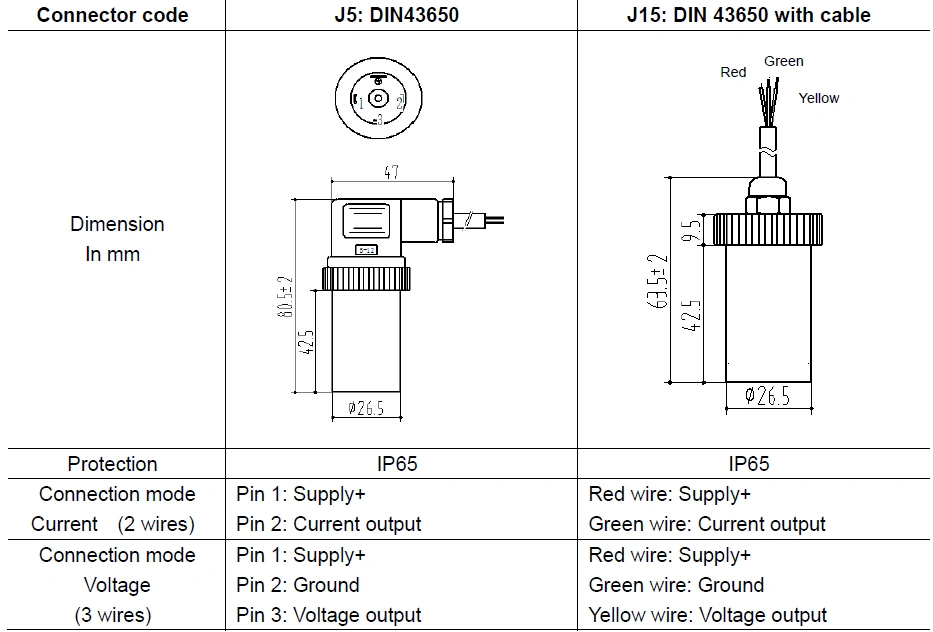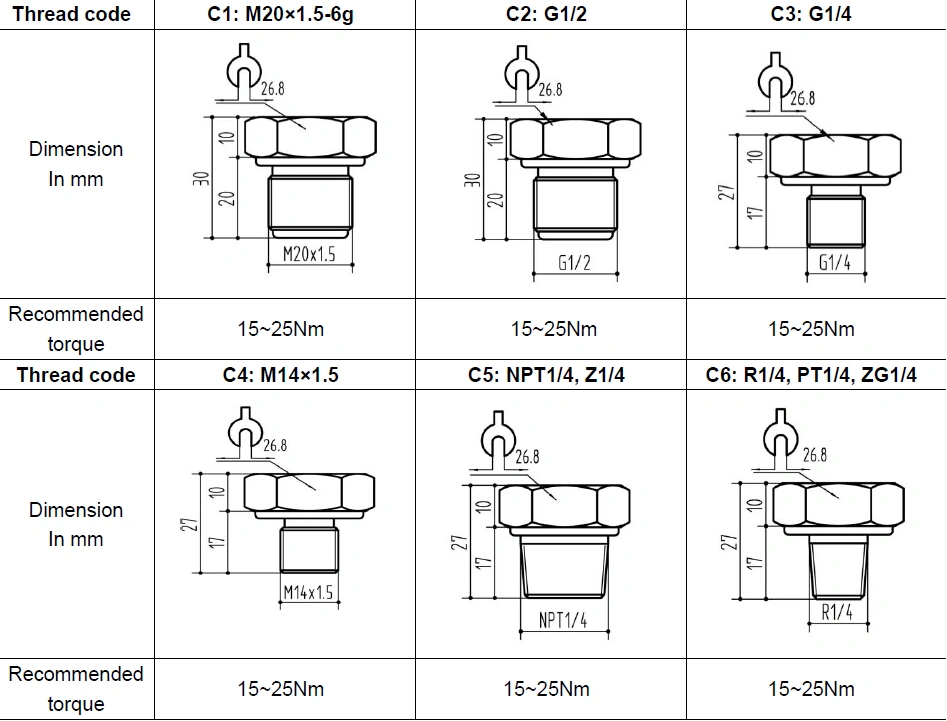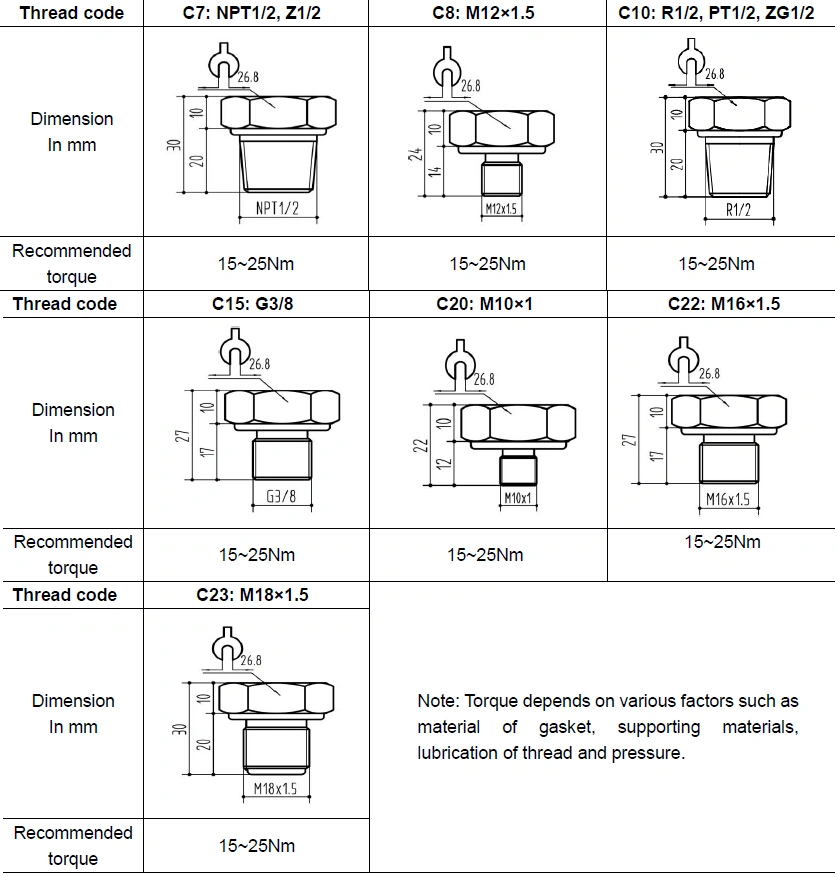 Pressure range selection
Pressure range code
Pressure reference
Pressure range
Overpressure
Burst pressure
Remark
1K
G
0~1kPa
200%FS
600%FS
Note 2
2K
G
0~2kPa
200%FS
600%FS
Note 2
5K
G
0~5kPa
200%FS
500%FS
Note 2
7K
G
0~7kPa
200%FS
500%FS 
 
10K
G
0~10kPa
200%FS
500%FS 
 
20K
G
0~20kPa
200%FS
500%FS 
 
35K
G
0~35kPa
200%FS
500%FS 
 
70K
G
0~70kPa
200%FS
500%FS 
 
100K
G
0~100kPa
150%FS
300%FS 
 
160K
G
0~160kPa
150%FS
300%FS 
 
250K
G
0~250kPa
150%FS
300%FS 
 
400K
G
0~400kPa
150%FS
300%FS 
 
600K
G
0~600kPa
150%FS
300%FS 
 
1M
G
0~1MPa
150%FS
300%FS 
 
1.6M
G
0~1.6MPa
150%FS
300%FS 
 
2.5M
G
0~2.5MPa
150%FS
300%FS 
 
35K
A
0~35kPa
150%FS
500%FS 
 
100K
A
0~100kPa
150%FS
300%FS 
 
160K
A
0~160kPa
150%FS
300%FS 
 
250K
A
0~250kPa
150%FS
300%FS 
 
400K
A
0~400kPa
150%FS
300%FS 
 
600K
A
0~600kPa
150%FS
300%FS 
 
1M
A
0~1MPa
150%FS
300%FS 
 
1.6M
A
0~1.6MPa
150%FS
300%FS 
 
2.5M
A
0~2.5MPa
150%FS
300%FS 
 
4M
A
0~4MPa
150%FS
300%FS 
 
1M
S
0~1MPa
150%FS
300%FS 
 
1.6M
S
0~1.6MPa
150%FS
300%FS 
 
2.5M
S
0~2.5MPa
150%FS
300%FS 
 
4M
S
0~4MPa
150%FS
300%FS 
 
6M
S
0~6MPa
150%FS
300%FS 
 
10M
S
0~10MPa
150%FS
300%FS 
 
16M
S
0~16MPa
150%FS
300%FS 
 
25M
S
0~25MPa
150%FS
300%FS 
 
40M
S
0~40MPa
150%FS
300%FS 
 
60M
S
0~60MPa
150%FS
200%FS 
 
100M
S
0~100MPa
120%FS
150%FS 
 
N1K
N/A
-100~0kPa
150%FS
300%FS 
 
N2K
N/A
0~-100kPa
150%FS
300%FS 
 
N3K
N/A
-100~100kPa
150%FS
300%FS 
 
N5M
N/A
-100~250kPa
150%FS
300%FS 
 
N7M
N/A
-0.1~0.6MPa
150%FS
300%FS 
 
N8M
N/A
-0.1~1MPa
150%FS
300%FS 
 
N9M
N/A
-0.1~1.6MPa
150%FS
300%FS 
 
N10M
N/A
-0.1~2.5MPa
150%FS
300%FS 
 
Note 1: G stands for gauge pressure, A, absolute pressure, S, sealed gauge pressure. 
Note 2: When selecting pressure sensor not filled with oil, the measuring medium must be pure gas.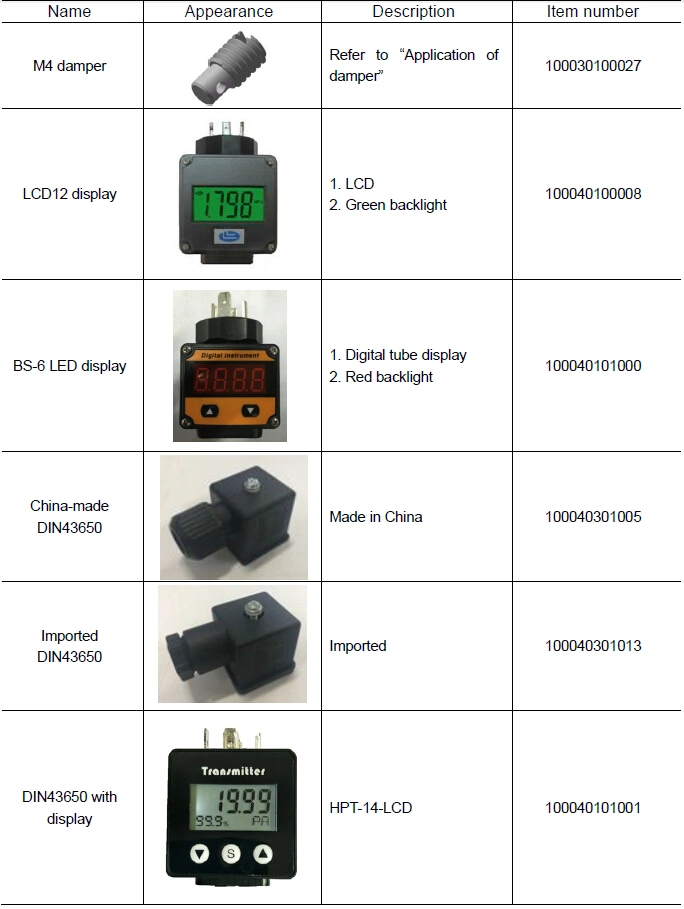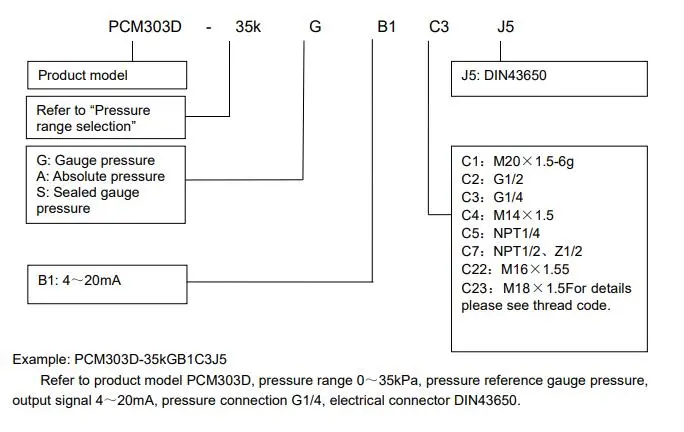 Ordering tips: 
Ensure compatibility between measured media and contacting part of product when placing an order. 
Wotian reserves the right to make any change in this publication without notice. The information provided is believed to be accurate and reliable as of this product sheet. 
About Us: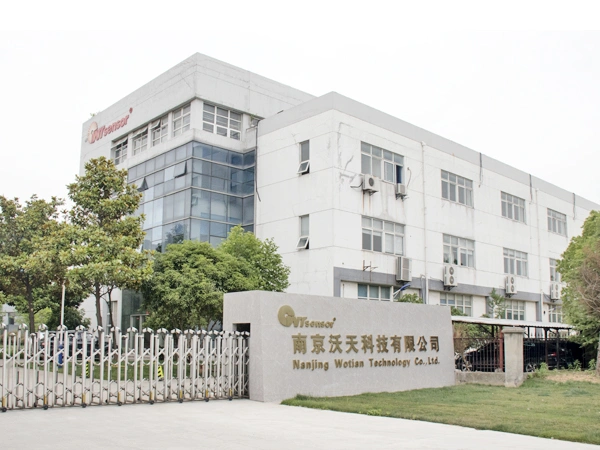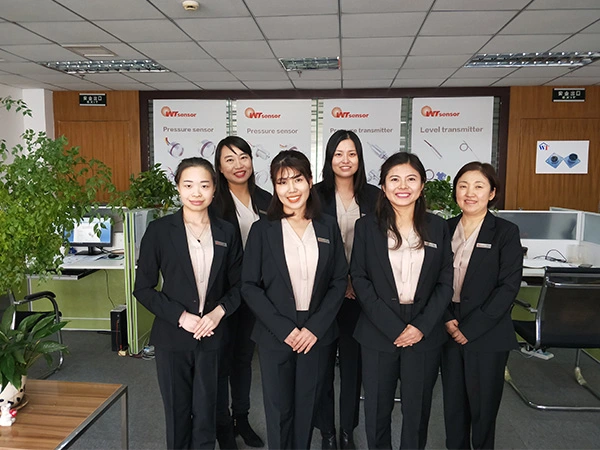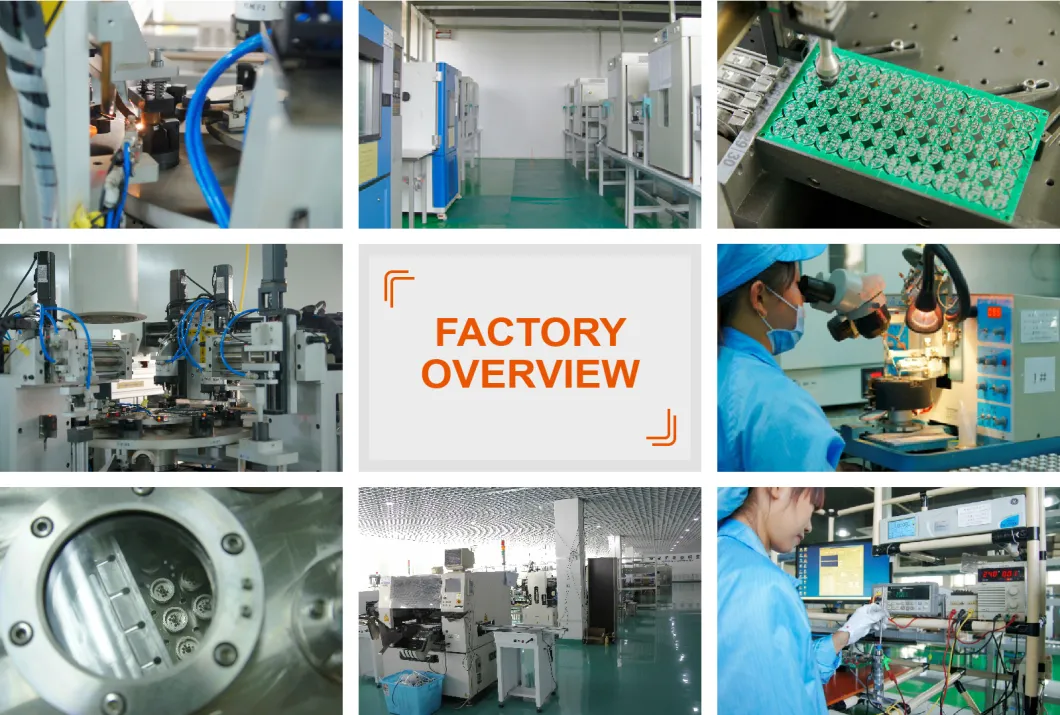 Certifications: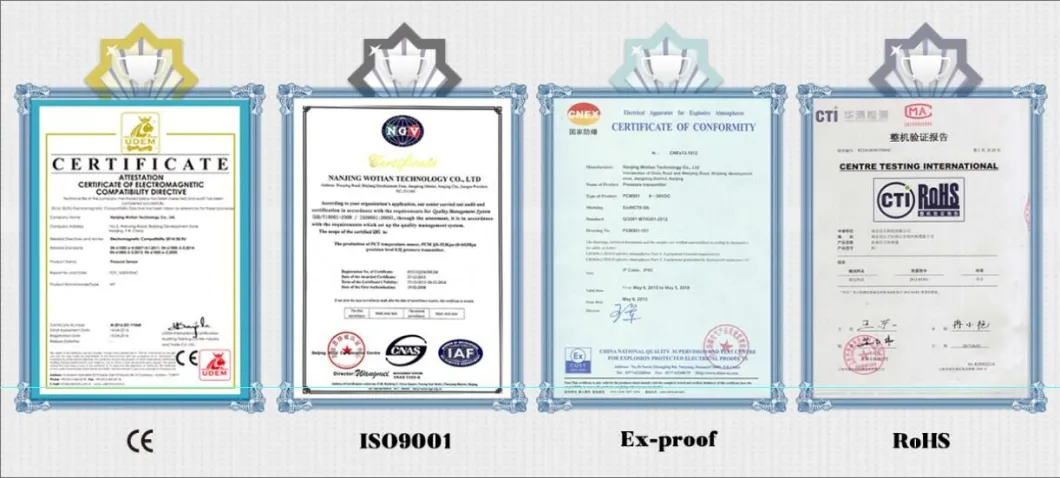 FAQ:
1.    Q: Are you manufacturer or trading company?
        A: We are manufacturer which focuses on pressure sensor for 33 years.
2.    Q: What international certificates do you have?
        A: ISO9001, CE, RoHS Certificated.
3.    Q: What is your production capacity?
        A: We produced 1500000 pieces pressure sensor in year 2017.
4.    Q: What is the lead time of your product?
        A: Stocks are available for some products. The typical lead time is 8~14 working days for product without customization. 
       Note: lead time may vary base on different products. Please contact us for detailed lead time. 
5.    Q: What is the warranty of your products?
       A: Our warranty time is 18 months after shipment.
6.    Q: Do you provide customized products?
       A: Yes, we can laser mark your logo, model and product information according to your requirement. We provide OEM and ODM service.
Contact us if you need more details on
Hydraulic Pressure Sensor
. We are ready to answer your questions on packaging, logistics, certification or any other aspects about Pressure Sensor for Liquid、Water Pressure Sensor. If these products fail to match your need, please contact us and we would like to provide relevant information.
Product Categories : Pressure Measurement sesnors & transducers > Pressure Transducer